In der inspirierenden Location Einstein1 fand am 15.01.2020 und 16.01.2020 das Netzsch Digital Bootcamp statt. Zum Anlass dieser Veranstaltung kamen Teilnehmer der Personalentwicklung und internen Kommunikation, externe Trainer und Coaches, sowie Mitglieder der Teams SensXpert, CHAIN und NEDGEX zusammen. Im Fokus der Veranstaltung stand Teambuilding, aber auch Themen rund um das Thema agiles Arbeiten wurden behandelt.


Am ersten Tag des Bootcamps hieß Christian Baier die Teilnehmer willkommen und gab in einer kurzen Einführung Tipps und Infos zur Zusammenarbeit mit NEDGEX. Anschließend folgten Tipps & Tricks zum Umgang mit dem Messagingdienst Slack sowie der Dropbox von Jörg Fiedler (NEDGEX) und Niko Emran vom Einstein 1 informierte die Teilnehmer zu Themen rund ums Online Marketing.
Teambuilding! Am Nachmittag fand ein Planspiel zum Thema "starke Zukunft – starkes Team" statt. Die Teilnehmer bildeten selbstständig Teams, übernahmen Aufgaben- und Rollenverteilung und mussten unter verschiedenen Rahmenbedingungen gemeinsam eine Seifenkiste bauen. Abschließend wurde die Vorgehensweise und die Ergebnisse des Baus präsentiert und das Seifenkistenrennen fand statt. Team Indien gewann! Am Ende des Tages gab es noch interessante Einblicke von einem echten Gründer: Johannes von AHearo präsentierte den steinigen, aber spannenden Weg eines Startup Projekts. Alle Teilnehmer ließen den Tag beim Wintergrillen auf der Dachterrasse des Einstein1 ausklingen.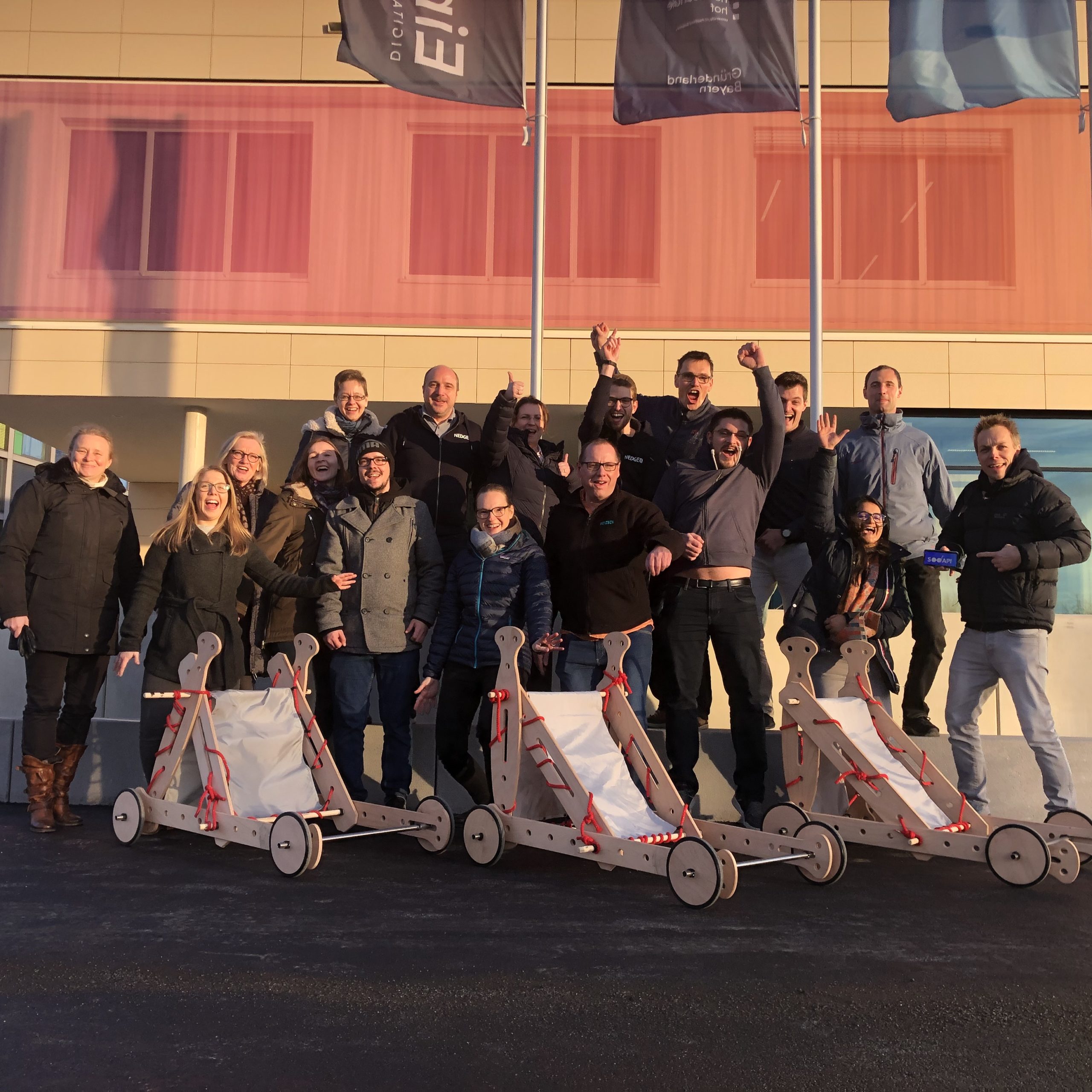 Am zweiten Tag des Bootcamps wurde den Teilnehmern ein spielerischer Einblick in die Methoden, Prinzipien und Praktiken der agilen Welt ermöglicht. Zusammen mit externen Trainern von HuhuCo wurden Themen wie die Stacy Matrix und Scrum behandelt und die Teilnehmer erhielten wertvolle Praxistipps der Trainer. Der Tag wurde von Dominik Meier aus dem NEDGEX-Team mit einer Feedback-Session beendet.
Das NEDGEX Team bedankt sich bei allen Teilnehmern für Ihre Bereitschaft zur aktiven Mitgestaltung und die erfolgreiche Teamarbeit – es war uns ein Vergnügen!
Ihr habt auch eine Idee für ein Innovationsprojekt oder wollt mehr über unsere Projekte erfahren? Dann schaut auf www.nedgex.com vorbei oder kontaktiert uns über hello@nedgex.com.
In the inspiring location Einstein1 the Netzsch Digital Bootcamp took place on 15.01.2020 and 16.01.2020. This event brought together participants from the fields of human resources development and internal communication, external trainers and coaches, as well as members of the SensXpert, CHAIN and NEDGEX teams. The focus of the event was teambuilding, but also topics related to agile working were covered.


On the first day of the boot camp Christian Baier welcomed the participants and gave a short introduction with tips and information about the cooperation with NEDGEX. This was followed by tips & tricks on how to use the messaging service Slack as well as the Dropbox by Jörg Fiedler (NEDGEX). Niko Emran from Einstein 1 informed the participants about topics related to online marketing. 
Team building! In the afternoon a business game with the topic "strong future – strong team" took place. The participants independently formed teams, took over the distribution of tasks and roles and had to build a soapbox together under different conditions. Finally, the procedure and the results of the construction were presented and the soapbox race took place. Team India won! At the end of the day there were interesting insights from a real founder: Johannes of AHearo presented the stony but exciting path of a start-up project. All participants let the day end with a winter barbecue on the roof terrace of the Einstein1.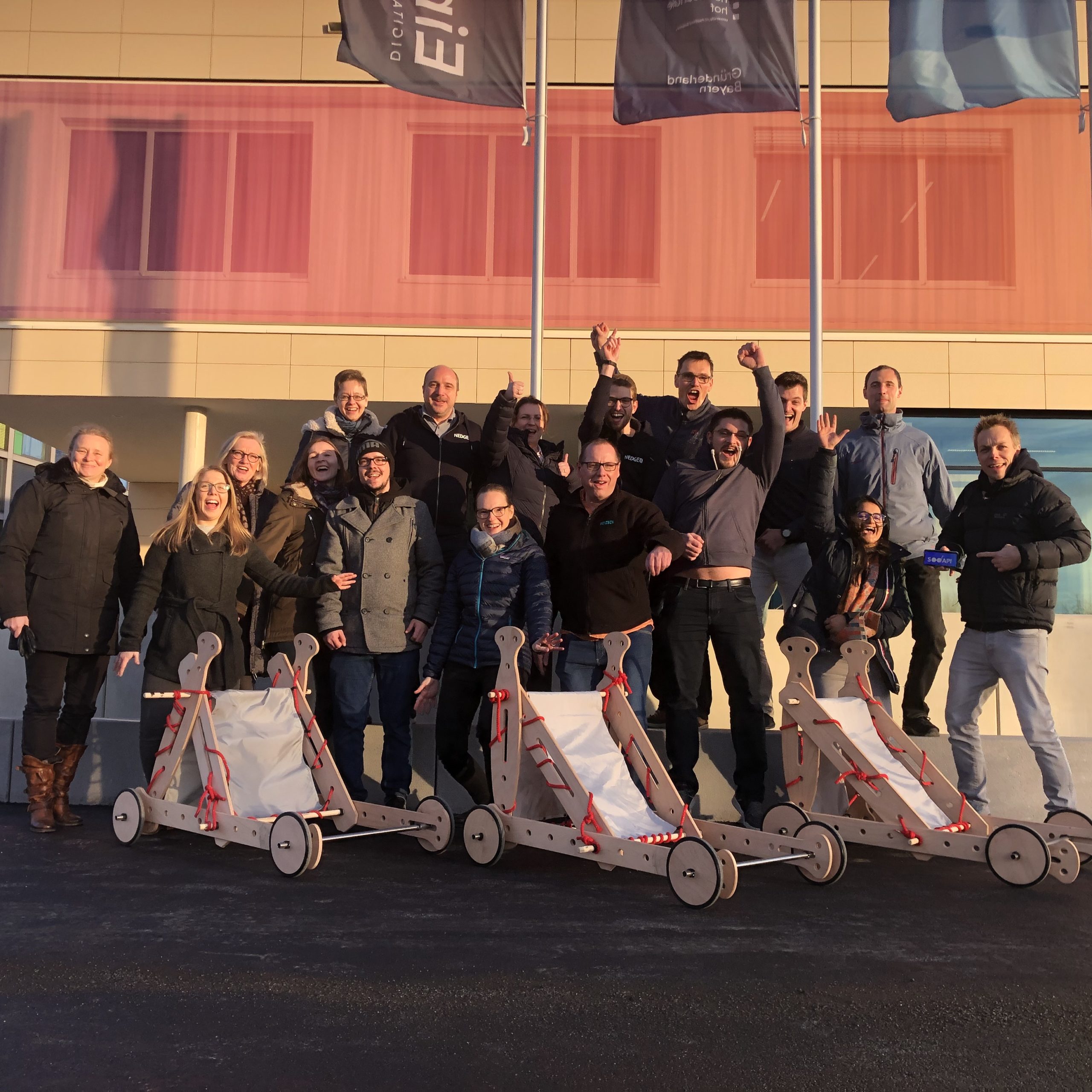 On the second day of the boot camp, participants were given a playful insight into the methods, principles and practices of the agile world. Together with external trainers from HuhuCo, topics such as the Stacy Matrix and Scrum were covered and the participants received valuable practical tips from the trainers. The day ended with a feedback session by Dominik Meier from the NEDGEX team.
The NEDGEX team would like to thank all participants for their willingness to actively participate and for the successful teamwork – it was our pleasure!
Do you also have an idea for an innovation project or would you like to learn more about our projects? Then have a look at www.nedgex.com or contact us via hello@nedgex.com.